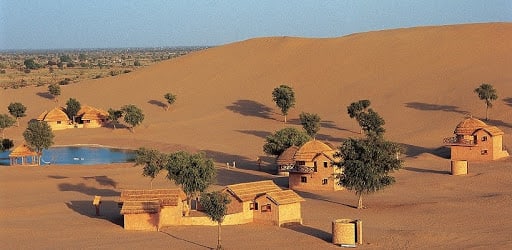 Khimsar is a Fort commonly known as Khimsar Fort in the Indian state of Rajasthan. It is situated near Khinvsar Village of the Nagaur district. Khinvsar has a population of 7,319 and the people of the area speak Hindi. The village shares its boundary with the Great Indian Sahara Desert. Khimsar Fort is a notable tourist attraction and is visited by huge crowds. Rao Karamsji, the son of Mandore ruler Rao Jodha built this massive fort in the 16th century. It is said that during his visit in Nagaur area, the famous Mughal Emperor Aurangzeb used to reside here in the fort.
Flying to Khimsar: Jodhpur Airport (95.2 km away) is the nearest airport to Khimsat. It offers only domestic flight for Delhi Mumbai, Indore, Ahmedabad, Jaipur.
Driving to Khimsar:
Read about our cars available for hire in Khimsar. Learn about our drivers serving the Khimsar area.