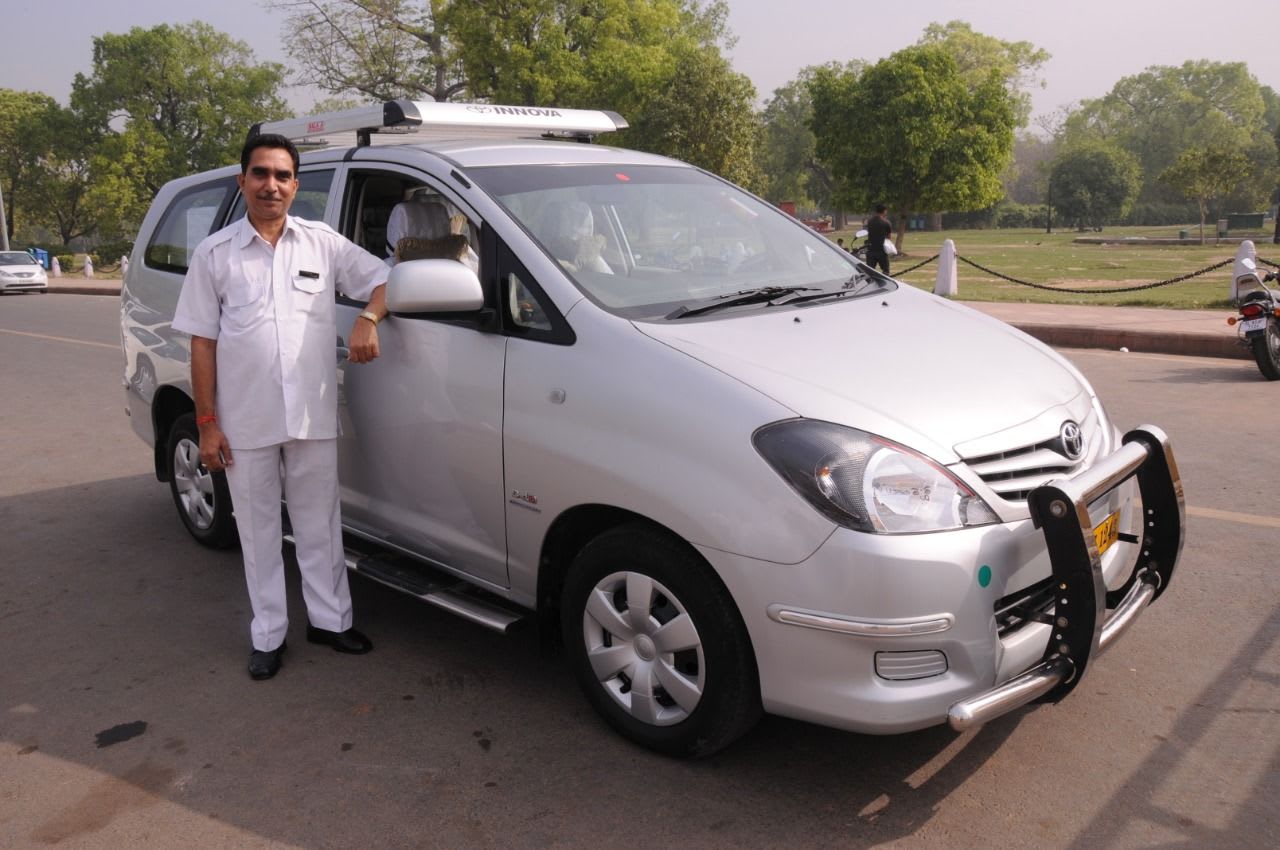 In this narration of a typical three-day tour in India, you'll get answers to questions such as:
How will I find my driver?
Will he speak English?
Where will he eat and sleep?
Who are local guides?
What's the difference between a guide and a driver?
How much should I tip my driver at the end of my trip?
Communication and finding your driver
You walk off your plane after landing in Delhi at 11 PM. Soon, you're past customs and have picked up your bags. As you walk into the arrivals waiting area, you're separated from a sea of anxious faces by a narrow railing. Many of them are waiting for family members, but there's a group of well dressed young men who are clearly there for work. Each holds a sign with a name, and sure enough, one of those names is yours. You've just located your assistant (or "executive", as they are referred to in India). His job it is to greet you, help with your bags, and bring you to your car and driver, waiting patiently in the parking area outside.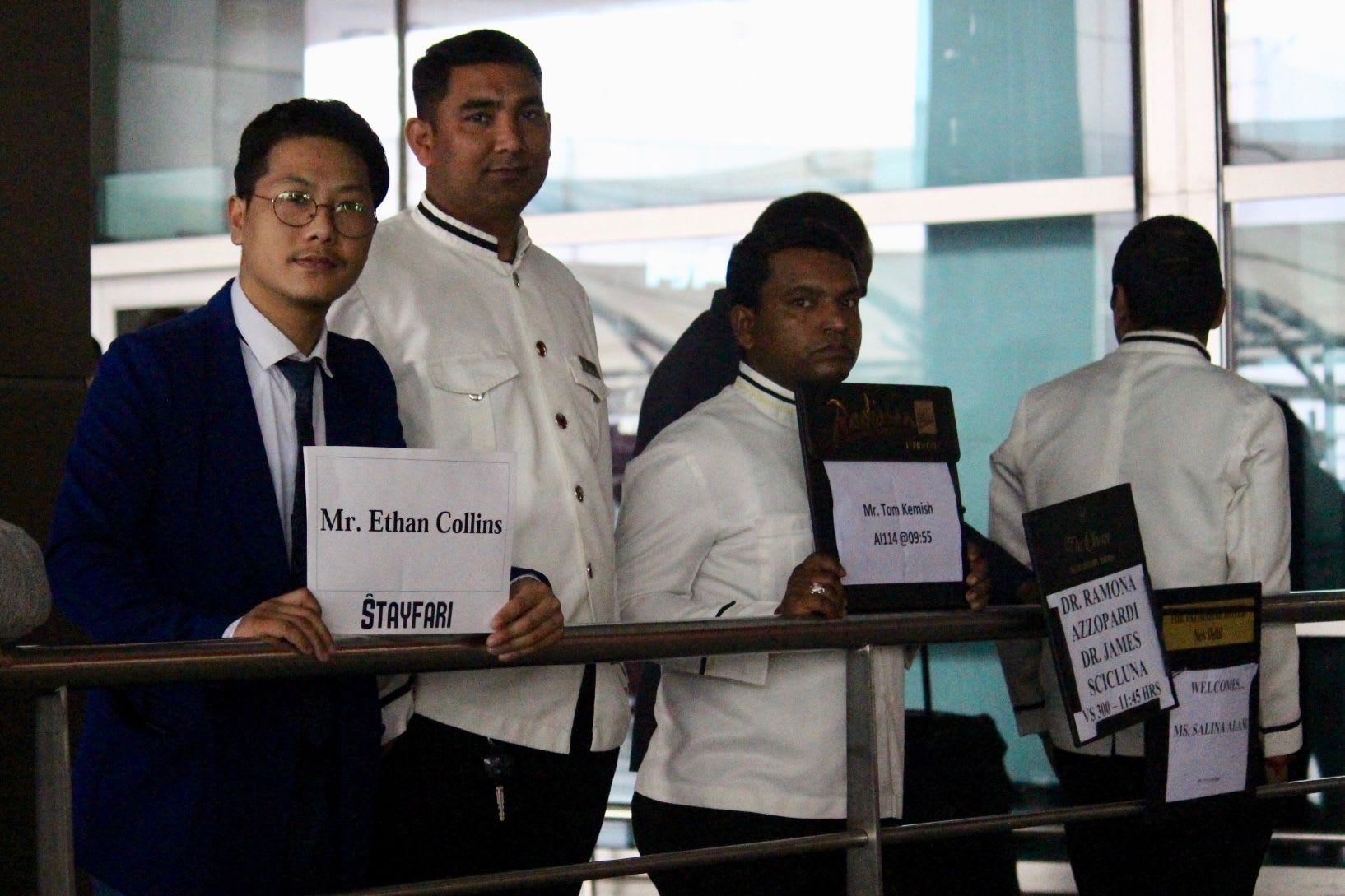 Had you been meeting your driver at your hotel rather than the airport, there wouldn't have been an executive. Instead, you would have consulted the WhatsApp group that your tour operator created specifically for your trip. A day or two before your pickup, you were sent a message on WhatsApp with the name of your driver, his mobile phone number, and your vehicle's license plate number. All you'd need to do is give your driver a ring or send him a text before heading downstairs from your hotel room to meet him.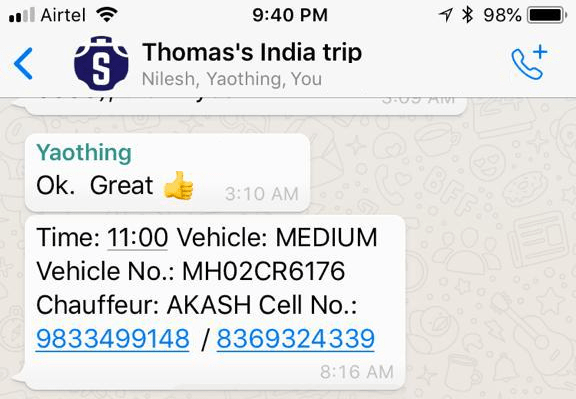 Beyond having your car and driver details, the WhatsApp group is a useful way to get a hold of your tour operator in case you have any requests or concerns during your trip. But today there's no need for WhatsApp because the executive has led you directly to your driver, Akash, in the airport's parking lot. You bid the executive farewell and place your trust in Akash for the next few days as you explore Delhi and Agra. He already knows where you're staying and your itinerary. Right now he's taking you straight to your hotel so you can check in and get some much needed sleep.
In the morning, Akash meets you right after breakfast. You discuss briefly the plan for the day, and he confirms the most efficient order in which to see the sights you have on your list. By now you know the limits of his English. It is functional, but not exactly fluent. What he lacks in vocabulary he makes up for in his agreeable nature, driving skills, and knowledge of the area.
Relying on your driver
After spending the morning sightseeing, you locate a restaurant for lunch. Akash drops you off and finds parking nearby. He's brought a packed lunch from home for himself.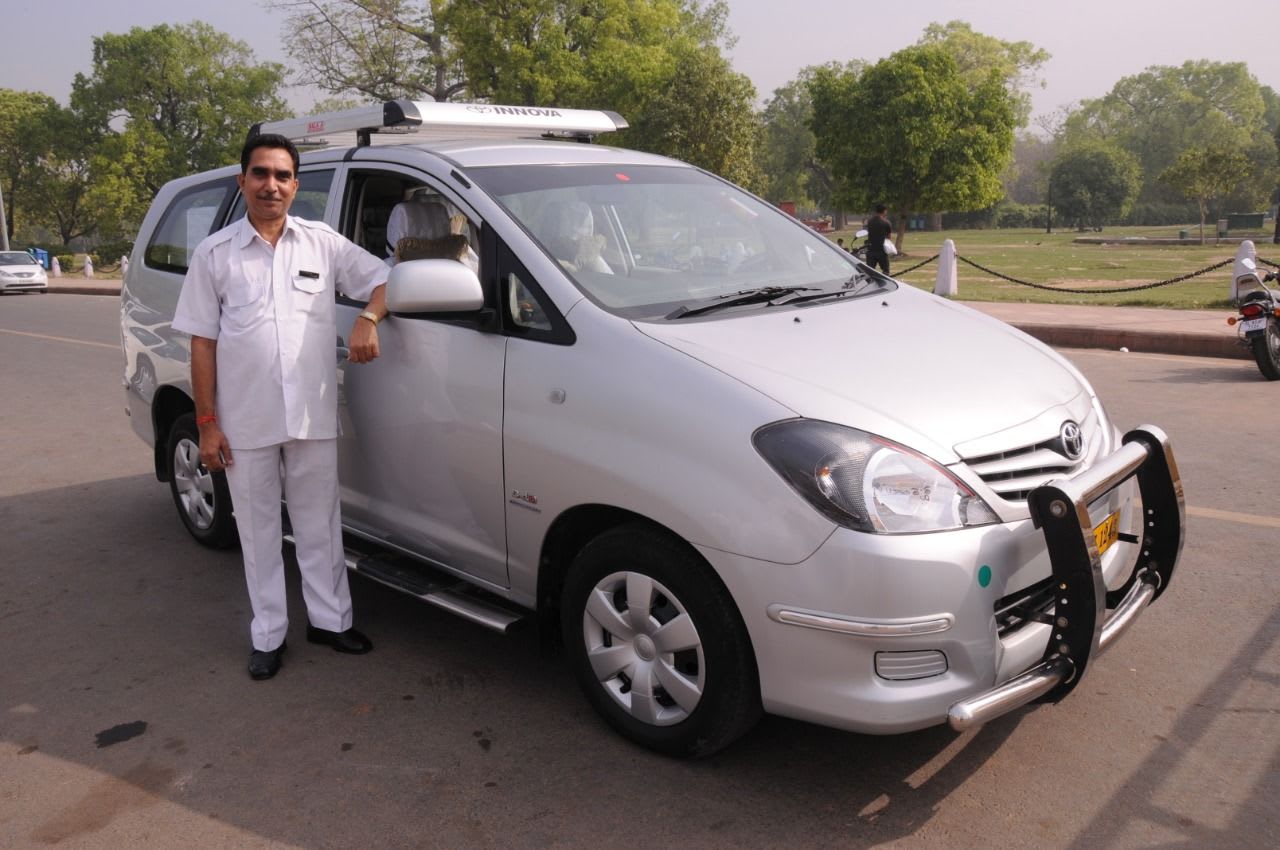 After lunch, you do more sightseeing until the evening, when Akash drops you off at your hotel. He goes home to his family, but not before setting a pickup time for the early morning. Tomorrow's an early start, since you're heading to the Taj Mahal for sunrise!
At 2:30 AM, Akash waiting outside your hotel. Your group's running just a few minutes late, but that's all right. The Taj Mahal opens 30 minutes before sunrise, which at this time of year is around 7 AM. You have a little time to spare. By 2:45 you're on the road, still a bit groggy. The Taj Express Highway is one of the best stretches of road in India, and conducive to sleep. However, it does require a toll, which Akash pays in cash from an envelope provided by his employer.
Here's our guide on how to choose the right vehicle for your trip in India.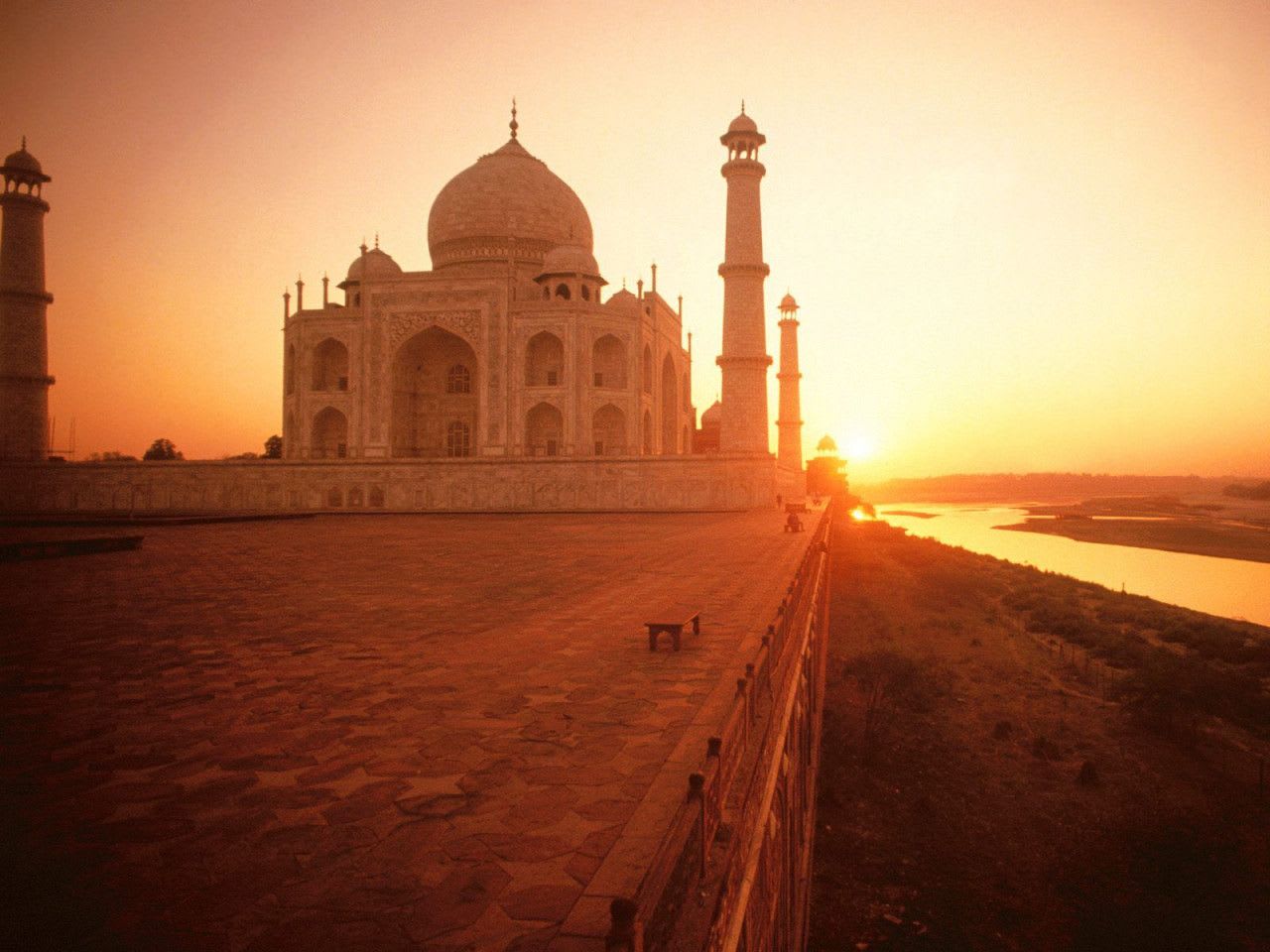 The benefits of a local guide
By 6:15 AM, you're at the front gates of the Taj Mahal. Today you've paid in advance for a local guide to show you around Agra. In India, local guides are independent contractors licensed by the Indian government to show tourists places of historical importance. Unlike drivers, local guides are allowed to accompany you into ticketed areas like monument grounds. Also relative to drivers, local guides generally have a better mastery of English (or any other languages for which they are licensed).
Your guide's name is Ishfaq and he meets you right outside the Taj Mahal. Ishfaq has lived in Agra for the last eight years and shown tourists around the Taj Mahal and Agra Fort countless times. He helps you purchase your entry tickets and walks with you into the monument grounds, narrating a story of the emperor Shah Jahan and his third wife Mumtaz Mahal, in whose honor the Taj Mahal was built. In the meantime, Akash has found parking for your vehicle and is chatting with a few other drivers, some of whom he knows from Delhi.
After the Taj Mahal, Akash picks up your group and Ishfaq from the Taj Mahal and you head to a restaurant nearby. Akash parks the van near the restaurant, and then he and Ishfaq walk to a local spot nearby to grab their own lunch. On days when he's spending the night away from home, Akash receives a daily allowance from his employer for his room and board. Ishfaq will pay for lunch out of pocket.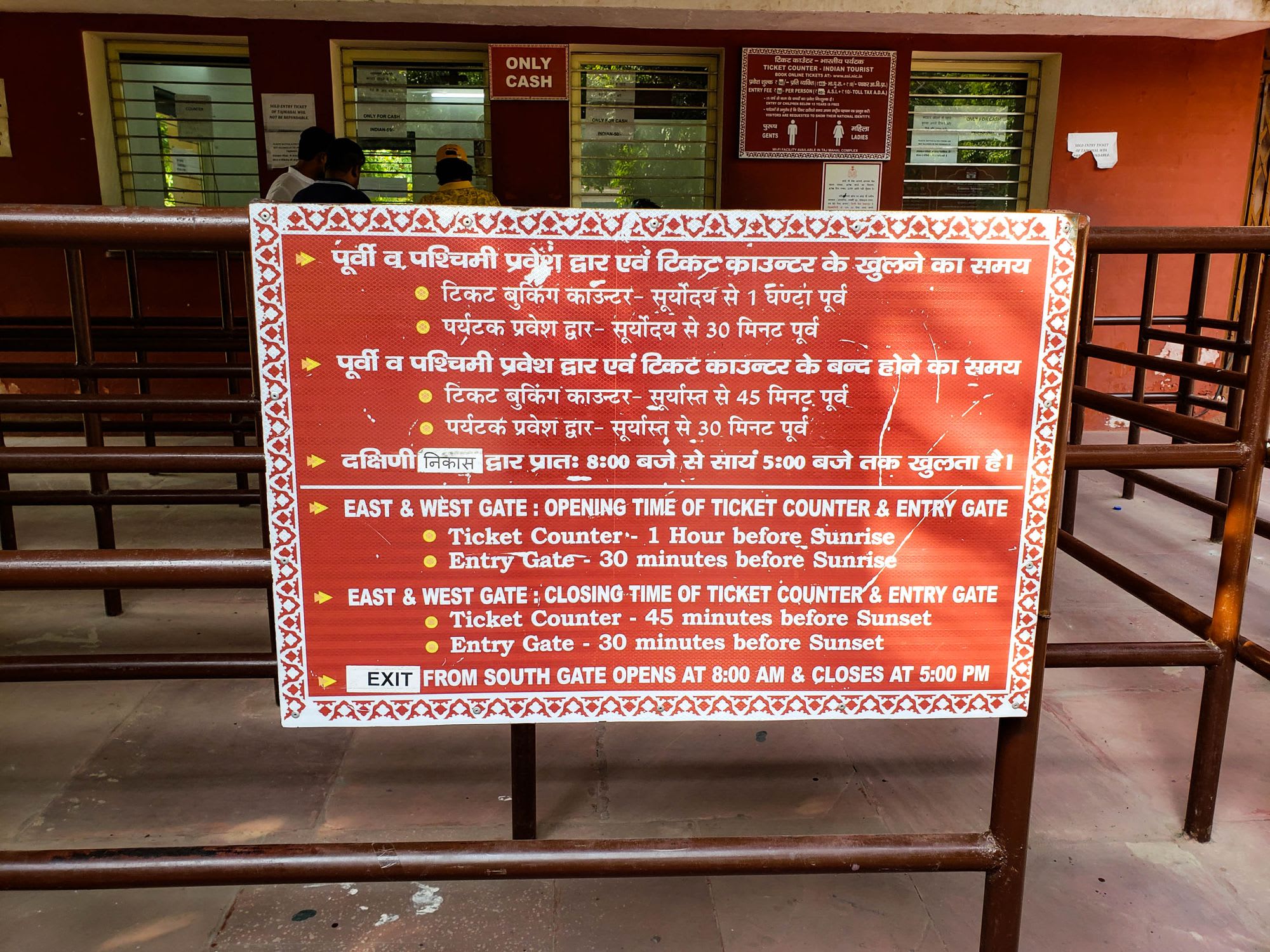 With lunch over with, you all meet back at the car and head to Agra Fort. As before, Ishfaq escorts you inside the monument grounds while Akash attends to the car outside. A couple hours later, you part ways with Ishfaq before heading to Fatehpur-Sikri, a nearby town that was a short-lived capital of the Mughal empire.
Here's a list of all the places in India where you can hire a licensed local guide.
Parting ways
In Fatehpur-Sikri, Akash takes you straight to your hotel to check in. Your hotel is walking distance from some of the ruins, so you let Akash know you'll meet him in the morning at 9 AM. After you've had time to freshen up, you go on a short walk to see the Badshahi Darwaza and Jama Majid nearby.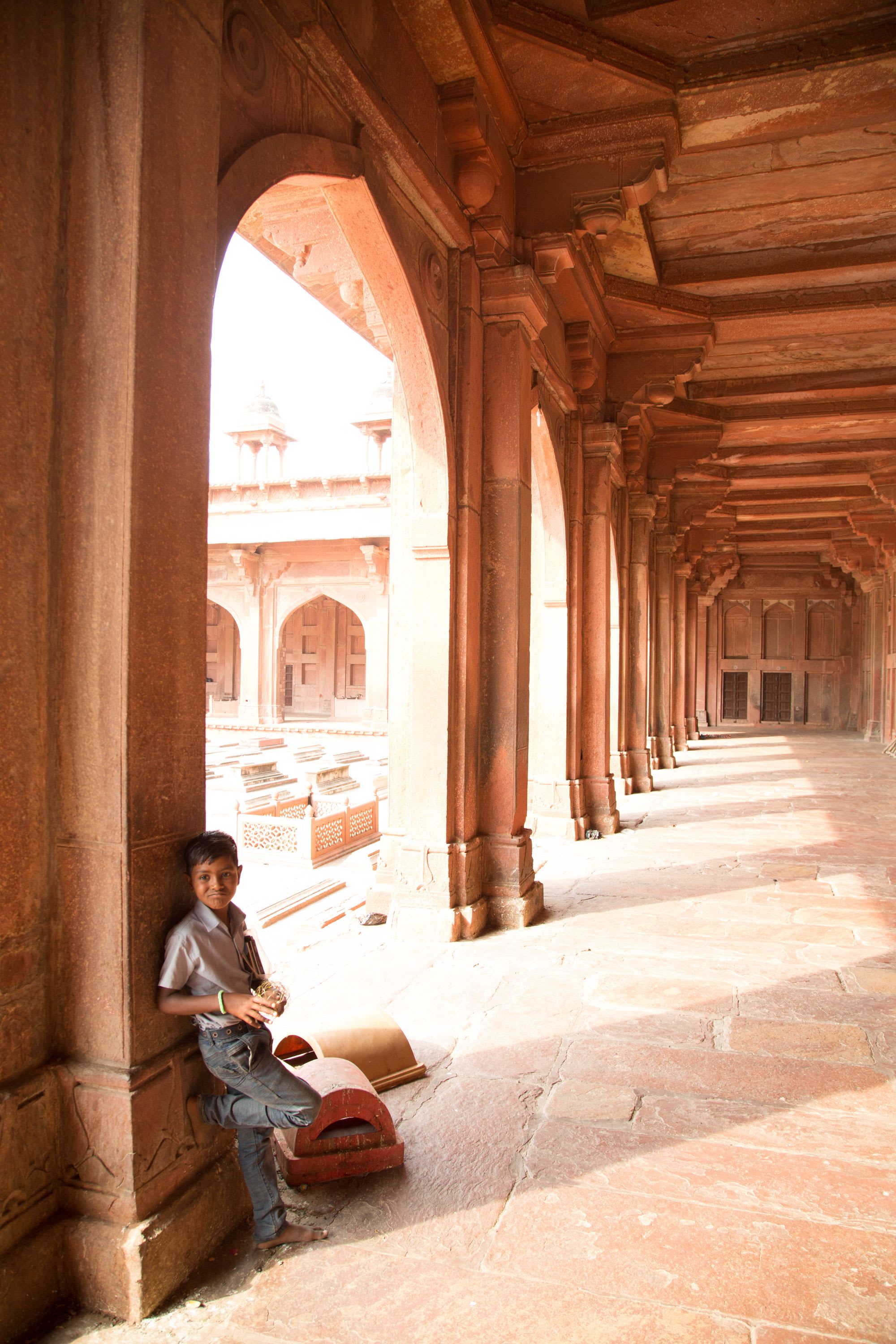 The next morning Akash meets you at 9 AM and takes you to the other side of Fatehpur-Sikri, where you get off and spend another hour exploring before heading back to Delhi. You have some shopping you'd like to get done in your last few hours before your evening flight, and Akash navigates you to a shopping area in South Delhi that's only a short detour from the route to the airport.
Shopping over, Akash drops you to your terminal at Indira Gandhi International Airport. You've been pleased with his service these last three days, so you tip him between ₹500 to ₹1,000 in a cash envelope, wave goodbye, and head to your next adventure!
At Stayfari, we offer car and driver services throughout India. Our vehicles are air-conditioned and like Akash, our drivers speak functional English. If requested, we're happy to arrange private local guides like Ishfaq. Click here to start planning your next trip with us.