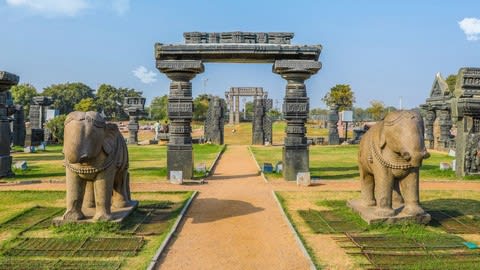 Warangal is a city of Telangana, India. It is the second most crowded metropolis in Telangana with a population of 830,281. Rulers like Rudradeva, Mahadeva, Prataparudra, Beta Raja I, Rani Rudrama Devi have reigned in the city. Warangal which was also the capital during the rule of Beta Raja I from the Kakatiya dynasty has been called by several names like Orugallu, Ekasila Nagram, Omatikonda. All these names have the which mean "Single Stone" symbolizing the presence of a mega stone present in the Fort of Warangal. Some of the interesting places to visit in Warangal are Mohana Sai Sri, Warangal Fort, Bhadrakali Temple, Kakatiya Musical Garden, Kakatiya Zoological Park, Inavolu Mallanna Temple and Waddepally Lake.
Flying to Warangal: Rajiv Gandhi international Airport (174.4 km away) is the nearest airport to Warangal. It provides domestic flights to Ahmedabad, Bengaluru, Bhopal, Chennai, Coimbatore, Delhi, Goa, Indore, Jaipur, Mumbai, Ranchi and Visakhapatnam and international flights to Dubai, Doha, Kuala Lumpur, Muscat and Sharjah.
Driving to Warangal:
Read about our cars available for hire in Warangal. Learn about our drivers serving the Warangal area.