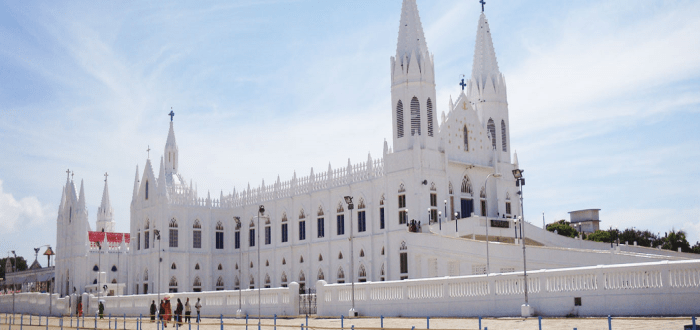 Velankanni is a town in Tamil Nadu, India. It is located in the district of Nagapattinam and is set on the Coromandel Coast. The area has a population of 10,144 and the local population speak Tamil here. In older times Velankanni's port was used for import and export to countries like Greece and Rome. The Basilica of Our Lady of Good Health, a Marian shrine is a most important and most visited place here which is also the largest Catholic place of worship in India. Velankanni Church, Morning Star Church and Velankanni Beach are the other popular places to visit.
Flying to Velankanni: Tiruchirappalli International Airport (157.2 km away) is the nearest airport to Velankanni. It offers international flights from Bangkok, Kuala Lumpur, Dubai, Colombo(Sri Lanka) and domestic flights from Bangalore, Pune, Chennai, Kolkata, Cochin, Mumbai, Delhi.
Driving to Velankanni:
Read about our cars available for hire in Velankanni. Learn about our drivers serving the Velankanni area.